7th day
March 31, 1896
The Rifle Range
The winner in this contest is the Greek George Orfanides.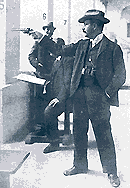 Marathon Cycle Race
The Greek Constanides is the winner of this adventurous contest.

The Torch Procession
One of the finest sights of the series of festivities is undoubtedly the torch procession that takes place in the evening of this Sunday, leaving indelible impressions to those who see it.
Banquet at the Palace
This very same day there is another noteworthy event, the banquet offers at the Palace in honour of the Olympic Winners, the foreign athletes and the representatives of the foreign press. At the end of the meal the King addresses the guests saying:
"The revival of the Olympic Games in their classical cradle has been crowned by full and unexpected success, and I am happy today in congratulating all of you who have worked to bring about this fine results...
Greece, the mother and nursery of athletic contests in the Panhellenic antiquity, undertaking and carrying out these today with courage under the eyes of Europe and of the New World, can now, that the general success has been acknowledged, hope that the foreigners who honoured it will appoint our land as a peaceful meeting place of the nations, as a continuous and permanent field of the Olympic Games."
---
Days: 1st | 2nd | 3rd | 4th | 5th | 6th | 7th | 8th | 9th | 10th