FIRST ATTEMPTS
In ancient Greek world, Olympic Games were the symbol of unity of all the Hellenic populations. Greek people have not forgotten that ideal; as soon as the Greek state was established in early 19th century, many attempts were made in Greece in order to revive the Olympic Games.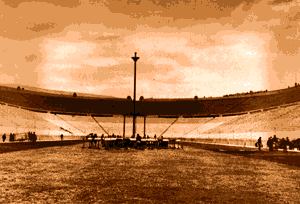 Alexandros Soutsos' Idea
In 1833, the poet, Alexandros Soutsos, recalled the glorious and peaceful character of the Olympic Games. His poetry sent the message to revive the Olympic Games.
From ancient Olympia ...
The revival of the Olympic Games was already conceived by the early 19th century. With the foundation of the Greek state, the inhabitants of Olympia decided to prove that they were offspring of ancients Greeks, by reviving the Olympic Games.
Zappian Olympic Games
Contrary to general belief, 1896 Olympic Games were not the first modern Olympic Games; Greeks revived Olympics many years before Coubertin was born. They held National Olympic Games in Athens four times, 1859, 1870, 1875 and 1889. How were these games organized?
---
Olympics Rebirth | People and Society | Symbols