Alexandros Soutsos' Idea
Alexandros Soutsos was a Greek poet; in 1833, the newspaper Helios published his poem which refered to the necessity of reviving the Olympic Games. The newspaper was published in Nafplio, the first capital of the new born Greek state, at the Peloponnese.
Plato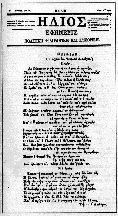 If our shadow could fly to your earth it would daringly shout to the Ministers of the Throne: Leave your petty politics and vain quarrels Recall the past splendour of Greece. Tell me, where are your ancient centuries? Where are your Olympic Games? Your majestic celebrations and great theatres? Where are your sculptures and busts, where are your altars and temples?
Every city, every wood and every temple was filled before with rows of silent marble statues. Foreign nations decorated your altars with offerings, gold jars from Gygas. Creaters, silvor plates and precious stones from Croesus. When the glorious Olympic festival opened, large crowds gathered to watch the games where athletes and kings came to compete, Ieron and Gelon and Philip and others. Before forty thousand bedazzled Greeks, Herodotus presented in his elegant history their recent triumphs. Thucudides listened to the beautiful harmony of his proseand prepared to meet him in competition as a worthy rival.
(G. Dolianitis, Vikelas, First I.O.C. President, International Olympic Academy, [S.Y.])
Influenced by the ideas of that poem, Evangelos Zappas proposed the revival of the Olympic Games.