[Menu] [Kant] [Leibniz]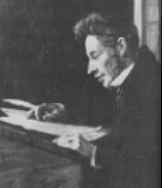 Søren Kierkegaard
(1813 - 1855)
Biography
Kierkegaard was born in Denmark into a deeply religious, devoutly Pietist family. He was the last of seven children, all of whom were raised to fear and venerate the Lord. In 1821 Kierkegaard was sent to the School of Civic Virtue. In 1830 he entered university, intending to study theology, but was drawn instead to the study of philosophy. In 1940, however, feeling an obligation to his father, with whom he had only recently improved relations before his father's death in 1938 after being estranged for many years, Kierkegaard resumed his theological studies and finally wrote and passed the examination. In 1940 Kierkegaard also became engaged to a woman named Regine Olsen, with whom he was deeply in love, but he broke the engagement off the following year. After that, he wrote on many subjects under a variety of pseudonyms. In 1948 Kierkegaard began to attack the Danish State Church vigorously, but died suddenly in 1955.
Works
Note: Names enclosed in square brackets are pseudonyms.
The Concept of Irony. (Dissertation for the Master's degree) (1841)
Either/Or. [ed. Victor Eremita] (1843)
Johannes Climacus, or De Omnibus Dubitandum Est (Written 1842/3 and left unfinished): and a Sermon (1844)
Edifying Discourses I-IV. (1843/4)
Repetition. [Constantine Constantius] (1843)
Fear and Trembling. [Johannes de Silentio] (1843)
Philosophical Fragments. [Johannes Climacus] (1844)
The Concept of Dread. [Vigilius Haufniensis] (1844)
Thoughts on Crucial Situations in Human Life: Three Discourses on Imagined Occasions. (1845)
Stages on Life's Way. [Hilarius Bookbinder]
Concluding Unscientific Postscript to the Philosophical Fragments. [Johannes Climacus] (1846)
On Authority and Revelation. (Written 1846/7: not published)
Edifying Discourses in a Different Vein. (1841
Works of Love. (1847)
Christian Discourses (1848), The Lilies of the Field and the Birds of the Air (1849), and Three Discourses at the Communion on Fridays (1849)
The Present Age, and Two Minor Ethico-Religious Treatises. [H. H.] (1848)
The Crisis and a Crisis in the Life of an Actress. [Inter et Inter]
Sickness Unto Death. [Anti-Climacus] (1849)
The Point of View of My Work as an Author. Two Notes about 'The Individual', and On My Work as an Author. (1848-51)
Armed Neutrality, and An Open Letter.
For Self-Examination: Judge for Yourselves! together with Two Discourses at the Communion on Fridays (1851); The Unchangeableness of God; An Address (1855)
Kierkegaard's Attack On 'Christendom'. (1854-55)
Training in Christianity. [Anti-Climacus] (1850)
Journals (1834-54).
The Prayers of Kierkegaard.
Meditations from Kierkegaard.
Kierkegaard On the Web





[Menu] [Top] [Locke]
---
Last modified Apr 29, 1996.