[Menu] [Hume] [Kierkegaard]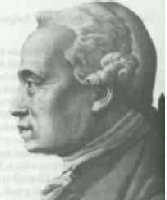 Immanuel Kant
(1724-1804)
Biography
German philosopher and founder of critical philosophy. The son of a saddler, Kant was born and educated in Köningsberg (Kaliningrad) in East Prussia. After leaving the university he spent a number of years in private tutoring, but taking his master's degree in 1755, he settled to teach a variety of subjects as Privatdozent. In 1770 he was appointed to the chair of logic and metaphysics at Köningsberg. It was after this that he entered on his greatest, "critical" period. His life was orderly to the point of caricature: he never left Köningsberg, and never married.

In spite of notorious difficulty of reading Kant, made worse by his penchant for scholastic systematization and obscure terminology, his place as the greatest philosopher of the latest three hundred years is well assured.

Works
Kant On The Web





[Menu] [Top] [Kieerkegaard]
---
Last modified August 16, 1995.