[Menu] [Sartre] [Wittgenstein]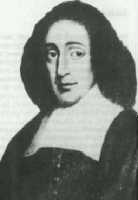 Benedictus de Spinoza
(1632-1677)
Biography
Dutch Jewish rationalist. Baruch or Benedict de Spinoza was born in Amsterdam into a distinguished Jewish family, exiled from Spain and living in the relative religious freedom of the Netherlands. He attended the Jewish school, and became learned in the work of Jewish and Arabic theologians. However, contact with dissident Christian movements, and with the with the scientific and philosophical thought of Descartes, led Spinoza to distance himself from orthodox life, and in 1656 he was deemed a heretic, cast out of the synagogue, and cursed with all the curses of the firmament.

For a short time Spinoza was exiled from Amsterdam, but he returned and began a life supporting himself by grinding lenses and teaching. In 1660 he moved to Voorburg and then on to the Hague, where he lived with great fugality on a small pension. In 1672 Spinoza undertook a small diplomatic mission to the invading French army, but on his return was under suspicion as a spy, and narrowly escaped being killed by the mob. Spinoza lived out his remaining years in the same frugal state, writing and corresponding. He died of phthisis, possibly brought on by his trade as a lens-grinder. There remain numerous testimonies to his simplicity, virtue, charm, and courage.
Works
After the exile from Amsterdam he returned and wrote the Short Treaties on God, Man, and his Well Being. In 1663 the Renati Descartes Principorium Philosophiae (The Principles of Descartes' Philosophy), a geometrically structured exposition of the philosophical system of Descartes, was published. In 1673 his work Tractatus Theologico-Politicus, whose advocacy for tolerance, was condemned be the Reformed Church. Spinozas final publication was the Tractatus de Intellectus Emandatione, published in the year of his death. He also wrote Ethics, which he chosed not to publish, knowing it would only generate controversy and rancour.








[Menu] [Top] [Wittgenstein]
---
Last modified August 16, 1995.