[Menu] [Hegel] [Hobbes]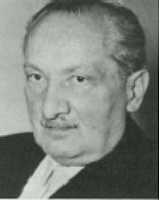 Martin Heidegger
(1889-1976)
Biography
German existentialist, born in Messkirch, Baden-Wurttemburg. He studied under Husserl, to whom he dedicated his main work Being and Time, at the University of Freiburg. There he also became Privatdozent in 1915, and later appointed to the Rektorat. In his inaugural address he praised Hitler, for which he received much criticism. He was also a professor at Marburg in the 20's. To some philosophers, he was the acknowledged leader and central figure, and to others he was a convenient example of meaningless metaphysics or a defendant of nazism.

In his latter years he lived in the hills above Freiburg, visiting the University on rare occasions to lecture.

Works
The Theory of Categories and Meaning in Duns Scotus (1916)
Being and Time (1927)
What is Metaphysics? (1929)
Kant and the Problem of Metaphysics (1929)
On the Essence of Reason (1929)
The Self-Assertion of the German University (1933)
Hölderlin and the Essence of Poetry (1936)
On the Essence of Truth (1943)
Plato's Theory of Truth (1947)
Cart Tracks: A Collection of Lectures (1949)
Introduction to Metaphysics (1953)
What is Thinking? (1954)
On the Question of Being (1955)
What is Philosophy? (1956)
Identity and Difference (1957)
Composure (1959)
On the Way to Speech (1959)
The Question Concerning the Thing (1962)
Views (1970)
Phenomenology and Theology (1970)
Heidegger On The Web





[Menu] [Top] [Hobbes]
---
Last modified November 8, 1995.