Modern Symbols
Symbolism in the Olympic movement represents in a more understandable way the ideas of the Olympism: peace, fraternity, noble contest.
Coloured rings
Baron Pierre de Coubertin conceived the main symbol of the International Olympic Committee, the coloured rings. According to Coubertin every one of the five rings symbolised one of the five continents. The conjunction of the five rings symbolised the conjunction of the continents during the athletic events and represents the ideal of peace and brotherhood of the whole planet.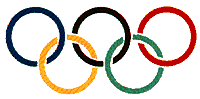 Olympic rings are a trademark of the IOC (International Olympic Committee)
Flame
In 1934, the International Olympic Committee decided to enrich the Olympic Games by the introduction of the Olympic flame. The torch-relay, starting with the flame lighting at ancient Olympia and arriving at the hosting city, would be a strong link between the ancient Olympic sites and the modern Olympic cities. The flame symbolises the purity which embodies the eternal youth of the Olympic philosophy. The universal symbol of the flame would lead all competitors to understand that it is necessary to work towards the lasting unity of mankind.
Festival
The modern organisation of Olympic Games is also based on festivities. These ceremonies symbolise the united spiritual community of all the people from different societies. Despite the various socio-cultural backgrounds, they contribute to a peaceful coexistence between nations.
---
Classical Symbols | 19th century Symbols