Vol-280


© 2007 for the individual papers by the papers' authors. Copying permitted for private and academic purposes. Re-publication of material on this page requires permission by the copyright owners.
---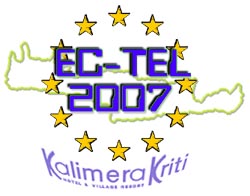 EC-TEL 2007 Posters
2nd European Conference on Technology Enhanced Learning
Proceedings of the EC-TEL 2007 Poster Session

Crete, Greece, September 17-20, 2007.
Edited by

Martin Wolpers1, Ralf Klamma2 and Erik Duval1

1 Katholieke Universiteit Leuven, Belgium
2 RWTH Aachen University, Germany

---
Table of Contents
Research Papers
---
submitted by M. Wolpers, R. Klamma, E. Duval, 14-Sep-2007
published on CEUR-WS.org, 17-Sep-2007