!Historical document!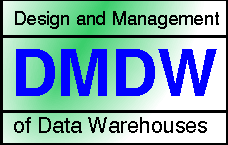 DESIGN AND MANAGEMENT OF DATA WAREHOUSES (DMDW'99)
Workshop W3 at CAiSE*99, Heidelberg, Germany
June 14-15, 1999
sponsored by



The 2nd workshop DMDW'2000 will be held at CAiSE*00 in Stockholm, June 2000
A summary of the workshop appears in SIGMOD Record, 24, 4 (pdf).
The workshop will take place in the room 'Gartensaal' of the official CAiSE conference venue, Hotel Europäischer Hof (see here on instructions how to reach the venue).
Important dates
April 15, 1999: Submission of papers
May 15, 1999: Notification of acceptance
May 30, 1999: Final version of accepted papers due
Registration and Accommodation
Registration to the workshop is organized via CAiSE! You can either register for the workshop alone or for the CAiSE conference plus the workshop. Authors of accepted papers are required to register in order to present the paper and to be considered for the journal publication.

Registration forms are found at


   Online Registration Form
   Fax Registration Form (pdf)


Registration to the DMDW'99 workshop alone costs DM 350,- . Registration to DMDW'99 plus the CAiSE'99 conference costs DM 850,-. Besides the official CAiSE hotel, there are plenty of hotels to be found at Tourist Office Heidelberg. Prices are starting at approx. DM 75,- per night incl. breakfast.

Stella Gatziu, Manfred Jeusfeld, Martin Staudt, Yannis Vassiliou
DMDW'99 organizing committee